The Port of Salvador is used for handling general cargo and boarding and disembarking passengers. It belongs to the Docks Company of the State of Bahia (CODEBA) and is administered by it. It is located in the Bay of All Saints, in the city of Salvador (BA), between Ponta do Monte Serrat to the north, and the tip of Santo Antônio to the south.
The Salvador Container Terminal (TECON) seeks to serve its customers by offering port services with quality, safety and responsibility. Since 2000, the terminal has committed itself to the development of the local economy and to a port logistics service of excellence, ready to win more and more confidence and credibility in the market.
The Maritime Passenger Terminal of the Port of Salvador is located at the southern tip of the port polygon, being limited to the north and west by the Atlantic Ocean and to the south and east by the Avenue of France, Commerce District. This terminal is characterized by its strategic location because it is in the middle of the ports of the extreme of the coast of the country and because it is situated in the heart of the city.
Check theNautical Chart of the Port of Salvador – 1102.
Show map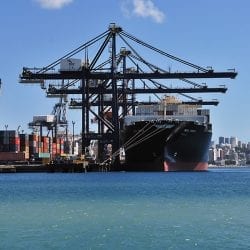 Porto de Salvador – Foto 01
---