The Port of Aratu is located in the state of Bahia, in the municipality of Candeias, in the cove of Caboto, in the Bay of Aratu, near the entrance of the Cotegipe canal, in front of the east coast of the island of Maré. The port is responsible for 60% of all cargo handled in maritime modal in Bahia, so it is of great importance for Bahia's economy, as it serves as a means of disposing of production and the entry of products to the Industrial Complex of Camaçari, the Center Industrial de Aratu (CIA) and the Ford automotive complex of Camaçari.
The Port of Aratu has significant economic importance for the State of Bahia and, consequently, for the country, supporting the processes of import and export of products. Liquid, gaseous and solid bulk products are the loads moved through an infrastructure of four terminals, one for gaseous products (TPG), with a 180-meter cradle; another for bulk liquids (TGL), with two cribs that cover 340 meters and two for bulk solids (TGS), with three cribs, with a length of 366 meters.
Check out Nautical Chart of the Naval Base of Aratu – 1103.
Show map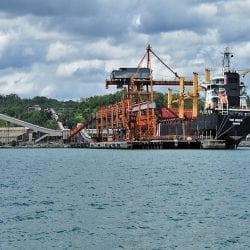 Porto de Aratu – Foto 02
---